Alright – so today we've got the honor of introducing you to Joy Webb. We think you'll enjoy our conversation, we've shared it below.
Hi Joy , thanks for joining us today. One of the most important things small businesses can do, in our view, is to serve underserved communities that are ignored by giant corporations who often are just creating mass-market, one-size-fits-all solutions. Talk to us about how you serve an underserved community.
Underserved is defined an a populations that do not have adequate access or service. Black folks have been underserved and undervalued forever. I am a philanthropists that shares a collective giving model with others so communities can thrive, No one is coming to save us, the Black community, and we have the power to be the change we want to see. By leveraging our time, talent, and treasure we can be the change agents in our community and communities that look like us. I am the founder of the Circle of Joy giving circle and we have been doing the work nearly 15 years in Metro Atlanta. We do this by leading with our treasure and following with our time and talent. The impact has been amazing as we have influenced and championed trust based philanthropy and community grant making filling the gap for some grassroots organizations in the area.
Great, appreciate you sharing that with us. Before we ask you to share more of your insights, can you take a moment to introduce yourself and how you got to where you are today to our readers
My name is Joy Webb. I have been working in philanthropy for about 15 years. I would say that I take a rather non-traditional approach to philanthropy. I teach a collective giving model that oftentimes looks like a giving circle. However, a giving circle could simply be a group of people doing services for their community by pooling their time, talent, and treasure. I have a giving circle called the Circle of Joy. I am a founding member, along with 15 other members in the Metro Atlanta area, where we give our own time, talent, and treasure to nonprofits who help youth in Atlanta. We've been doing that for 14 years. Currently, I'm working with several civic organizations in Atlanta and the United States to share collective giving models. I am the Collective Giving Evangelist. I teach about collective giving. I share about how we impact the world, and how you, as a person, can be the change you want to see. I share this with mostly brown or black people. Philanthropy is not a concept that is new to us. It is something that is clearly part of our ancestry. The work of collective giving also showcases that people of color are on the supply side of philanthropy, rather than the demand side. I am most proud that I am able to see the effects that collective giving has had on different communities. I am also proud of how collective giving has allowed community members to achieve everything ranging from leading causes, partnering with organizations that are doing the work, and changing policy.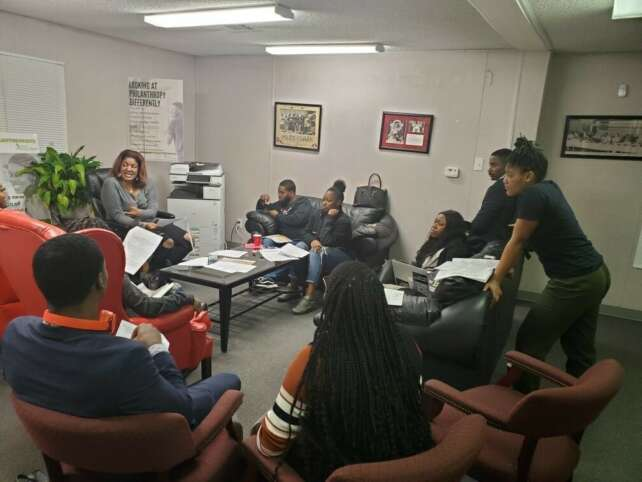 Let's talk about resilience next – do you have a story you can share with us?
When I started this work about 15 years ago, I was met with a few challenges. One challenge was finding a foundation that would hold the money of my giving circle called Circle of Joy, which is also a donor advised fund. Several foundations told me that I did not have enough money for the hefty onboard requirement to start a donor advised fund. Being resilient in this situation meant not giving up. Fortunately, I was blessed with the mentorship of Community Investment Network, a nonprofit organization that supports and encourages the development of giving circles. They introduced me to alternative resources that helped the Circle of Joy secure a partnership with our current foundation called Funds for Southern Communities. Because of our partnership with Funds for Southern Communities, Circle of Joy has been able to give money to over 20 organizations in the last 14 years.
Can you talk to us about how your side-hustle turned into something more?
I would definitely be able to say that I have turned my side hustle into my main career! I pursued my undergraduate education at Florida A&M University, where I majored in graphic design studying marketing. After I went to graduate school, I worked at a Fortune 500 company. But, I knew that I had a love for giving. However, I did not want to be a development officer because I felt as though that route was not my passion. I really wanted to give money and development officers, however, find money. Through the mentorship of Community Investment Network, I was able to become a founding member of my current giving circle called Circle of Joy. I enjoyed helping people leverage their resources and build community by doing so. Soon after, I was able to leverage the work I had done with my giving circle to help other members of the community do the same thing. Before I knew it, doing work in philanthropy became my main focus.
Contact Info:
Image Credits
@jas_photo